Craft and Farmers' Markets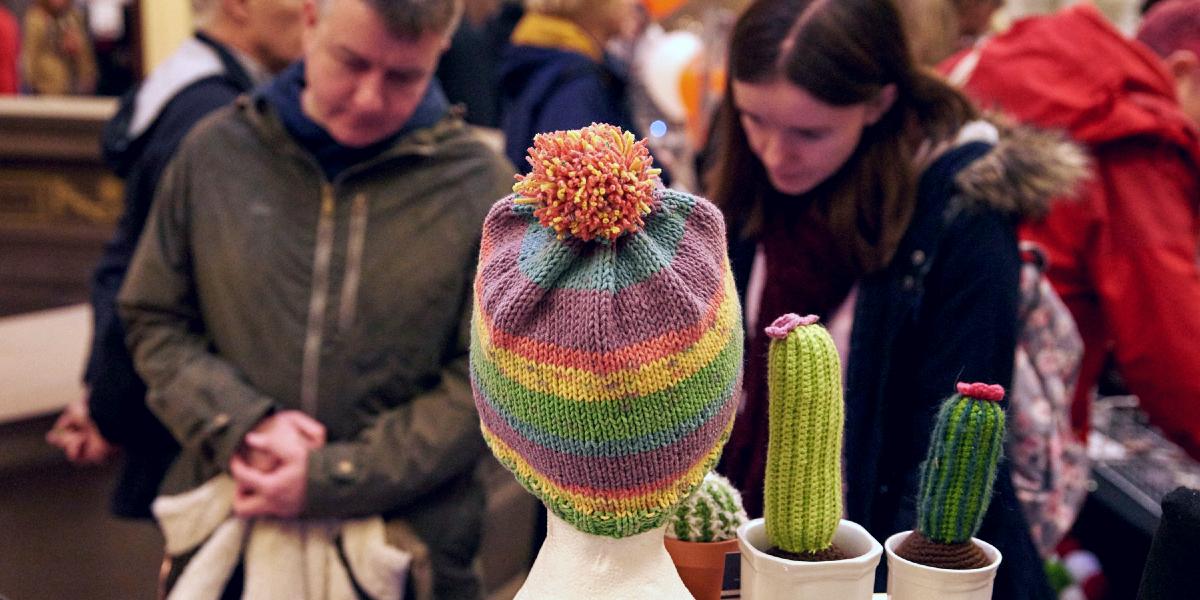 Whether you're a keen foodie, or you love local crafts, Preston has a variety of regular craft and farmers' markets that bring local produce into one handy location.
Indoors or outdoors, you can grab some fresh groceries, treat yourself to some decadent desserts, or pick up a one-of-a-kind gift for someone special.
For pop-up and seasonal markets see our What's on.
Please note: It is recommended that you check any of the following markets are still taking place on the day you wish to visit, as sometimes weather and unforeseen circumstances can lead to cancellations.
The Makers Market
Preston's Makers Market takes place on the second Saturday of every month on Preston Flag Market, 10am - 4pm.
The market boasts the best of local makers, designers, bakers, musicians, and more. Food enthusiasts can rejoice at the choice of delicious dishes to tuck into and the array of tempting treats to take home. The talented local craft stalls are also ideal for gift shopping or for picking up a treat for yourself. From handmade soaps and jewellery to gourmet cakes and preserves, the Makers Market has it all going on.
For more details visit Facebook - Preston Makers Market.
PPL Markets
The People's Production Lab's market space hosts a wide range of markets throughout the year. The space is located on Cannon Street and in the past has played host to vegan markets and Etsy makers markets.
More than just markets, PPL pull out all the stops to make sure you're entertained and have an abundance of choice when it comes to food stalls and craft stalls.
For upcoming PPL Markets check out our What's on.
Ashton on Ribble Farmers' Market
Ashton on Ribble Farmers' Market takes place on the third Saturday of every month, 9am - 1pm, at St Michael's Church in Ashton.
This farmers' market is perfect for eco-conscious shoppers. Thanks to stocks of local produce and fair trade products, you can shop safely in the knowledge you are supporting good causes and the reduction of food miles.
The market also features a collection point for Preston food bank.
For more details visit St Michael and All Angels with St Mark.
Hoghton Tower Farmers' Market
Hoghton Tower's Farmers' Market takes place on the third Sunday of every month, 10am - 2pm.
The market combines an abundance of food and craft stalls. Come rain or shine, you can pick up fresh and local produce and tuck into mouth-watering foods from around the world. And, when it comes to crafts, you're sure to find something unique for yourself, the home, or as a gift...not to mention pet products too!
For more details visit Hoghton Tower - Farmers' Market.
Artisan Markets
Artisan Markets work with local businesses to deliver markets with artisan food, drink, and handmade crafts. Markets take place in various locations around Preston and Lancashire and include special seasonal markets.
For more details of when and where you can find an Artisan Market near you visit the Artisan Markets official website.
#VisitPreston - Share your experiences
Share your Preston adventures and discover new places to enjoy using #VisitPreston.
Map addresses for craft and farmers' markets
Preston Flag Market, Cheapside, PR1 2AP.
People's Production Lab, 55 Guildhall Street, Preston, PR1 3NU.
St Michael's Church, Tulketh Road, Preston, PR2 1AJ.
Hoghton Tower, Hoghton, Preston, PR5 0SH.